The easiest way to build a module is a simple wooden box made from four strips of plywood or tempered hardboard and a sheet on top. These can be made to size by your local DIY store. Placing four blocks in the corners stiffens the construction. They can also be used to place T-nuts/weft nuts, which can be used to adjust the height using bolts for legs. The pictures below show an example.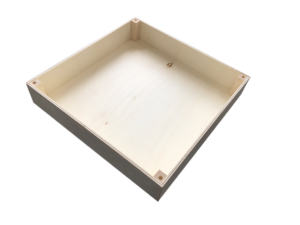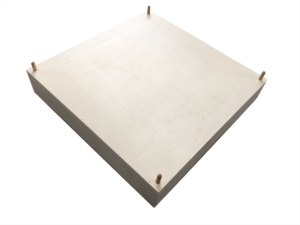 Needed:
1 sheet 53,2 x 53,2 cm
2 strips 53,2 x 9,1 mm
2 strips 51,4 x 9,1 cm
4 blocks ≥ 25 x ≥ 25 mm, max. 9,1 cm high
If precise cutting is not possible, you rather cut everything a millimeter smaller than larger.. Click here for a sketch.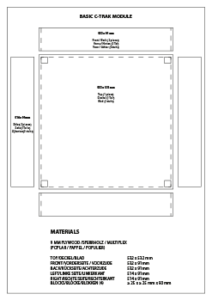 Plywood is probably the best material for this. The example below shows the measurements for a box from 9 mm plywood. A box like that is very rugged, but also reasonably heavy; ± 2,5 kg. Thinner material will make it lighter and cheaper. Cut at a DIY store, a module like this will cost about € 8,00. A little carpenter's glue suffices to put it all together. A little more difficult to find is plywood made from poplar instead of birch. It will set you back about € 1,00 more, is just as sturdy but weighs only half.